Eptar.hu Review for Manufacturers

Marketing activity for manufacturers, builders and traders is one of the main profiles of
Éptár
next to Add-on and BIM development.
Our target audience are:
architects, designers and engineers
civil builders and customers
constructors
investors
traders
Being informed is a must today so Éptár webpage is maintained to store product data thus, designers and constructors can easily get information while manufacturers get new marketing devices. The products of the different manufacturers, next to the news and product catalogues and descriptions are also available via interactive devices such as technical videos, BIM object in CAD tools like ArchiCAD and Revit or online configurators.
Get more information about Éptár services and check the Éptár media packages:
Éptár media packages:
Standard Package
Premium Package
unlimited publishing of news, articles and banners
newsletter to 7500 subscribers
manufacturer logo display on the website
personal product page with full range of product list
online contracting system
the biggest Hungarian node database
technical videos
new Éptár mobile building material database + personal mobile app*
display BIM solutions (CAD product library)

Prices

Annual subscription fee
350 000 Ft + VAT

Annual subscription fee
550 000 Ft + VAT
With further questions or for a personal meeting contact us!
Éptár.hu services
Services of the Standard Package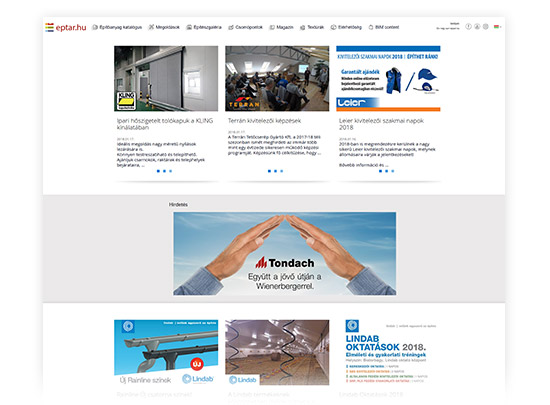 Unlimited publishing of news, articles, and banners
News, product guides, professional articles, product innovations
Publishing events, professional events and discounts
Publishing product guides, product descriptions between the news
Appearance in the news letters
Banner display (on main and subpages as well)
Publishing main news
News and articles are collected and published as a newsletter on a monthly basis.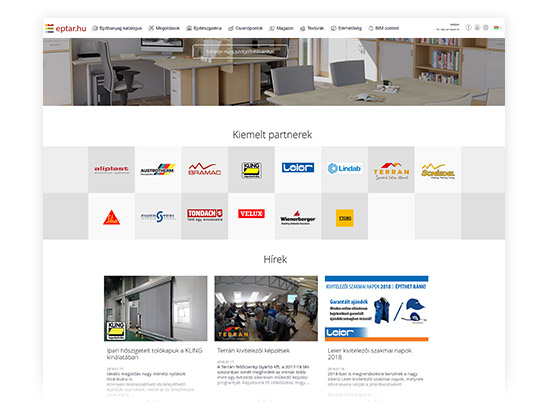 Manufacturer logo display on the website
Display of manufacturer logo on the main website
Priority access of products in the product catalog
Technical videos of build-in and installation
Online system for requesting price offers, making direct contact between the potential customer and the manufacturer
Connecting manufacturers with the building material trading system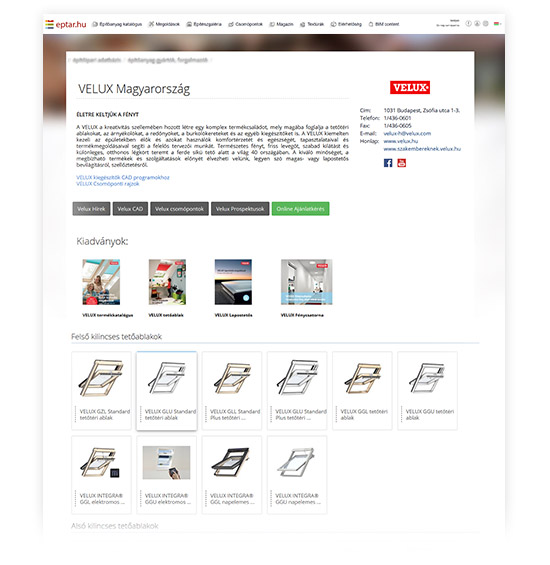 Personal manufacturer and product information page on Eptar.hu
Organized data of your products
Manufacturer's contact details
Company introduction
Product range description
Product data sheets, catalogs, presentation of important data (geometry, price, material requirements, properties etc.)
Reference pictures
Technical descriptions
Application technology, installation instructions
Links to all manufacturer content in eptar.hu
The subpage of the manufacturers can be directly reached via
Éptár main page
.
The own manufacturer page data is also displayed in
Éptár mobile building material database
.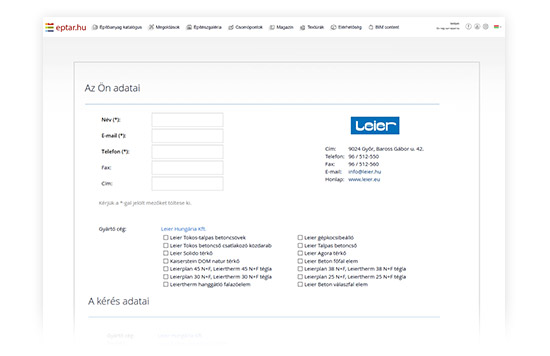 Online price offer request system
Our online price offer request system gives the possibility for the users to ask for an offer, product information directly from the manufacturer. In our system, users are able to choose the product they need an information about. The request for the offer will be sent to an email address the manufacturer gave to help building direct connection.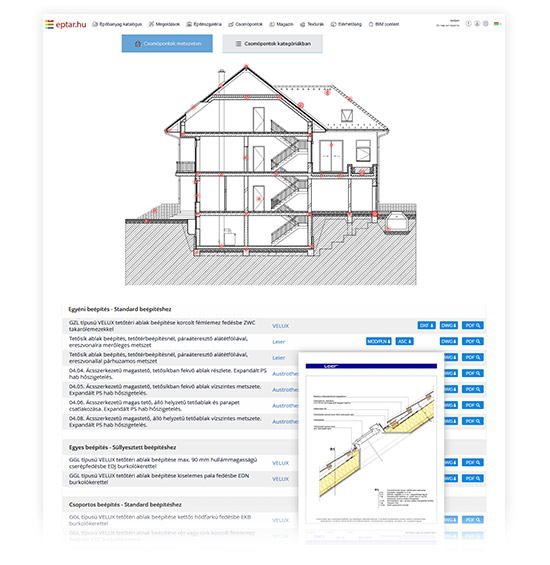 Node database
In our node database users can search installation and structural nodes based on detailed drawings which makes clear rules for designers and constructors. Search is supported with preview drawings so the users can find more efficiently the interesting installation details.
Available file formats:
DWG,
DXF,
PDF,
GDL/PLN
ASC
We undertake DWG format nodes to convert into the required formats.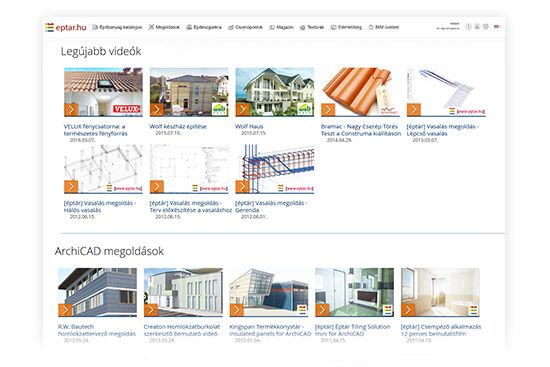 Professional video collection
We display limitless numbers of professional videos of our partners. New videos are displayed on our main page among the news. Earlier vides can be viewed in the archives.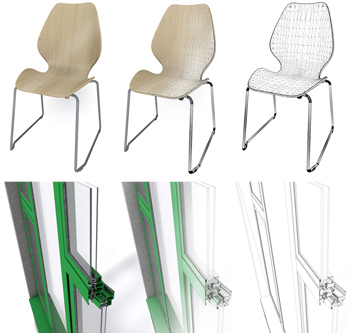 BIM solutions, libraries, product specific CAD and online solutions on Éptár
Publication of GDL and Revit libraries (downloadable)
Publication of Add-on solutions
Publication of an article about the solution in the ArchiCAD Magazin
Technical support
Preparation of user guides and videos
Introduction of the solution at professional conferences
Representing our partners at exhibitions and conferences by making brochures and short films representing the design process and the BIM library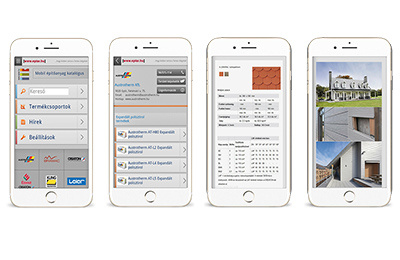 Éptár building material smartphone app
The app contains news and product data from the Éptár website. The Éptár app is available in Google Play and in App Store.
For our partners with Premium Package the app can be customized. The customized app is able to send widgets to the users.
| | |
| --- | --- |
| Apple iPhone/iPad | Android Phones/Tablets |
| | |
BIM development
We build your products virtually. Building Information Modeling is design process in which the whole building or only certain parts of it is built virtually. BIM brings effectiveness and productivity in construction and everyday life.
BIM standards arrive in more and more countries worldwide. BIM is already a standard in many countries. It is always beneficial to have BIM among the first ones. BIM serves marketing purposes to manufacturer companies. Let architects work with your products in the design process too.
Our services for BIM development
develop GDL objects, complete libraries for ArchiCAD
Add-ons for ArchiCAD
Revit family parts
Revit Add-ins
software independent solutions
online configurators
For an offer, please contact us.
Éptár references (pdf) Lapozható katalódus
Igények felmérése, koncepció kialakítása a BIM elemek működéséhez:
A gyártóval való egyeztetések során meglévő megoldásaink segítségével tudjuk modellezni a lehetséges működést. A fejlesztési koncepció kialakításánál a gyártói elképzelésekre alapozzuk az elem működését, de az általunk ismer felhasználói igényeket, az építészeti szoftverek speciális tulajdonságait is figyelembe vesszük. Így felhasználóbarát, könnyen kezelhető BIM elemeket kapunk végeredményként.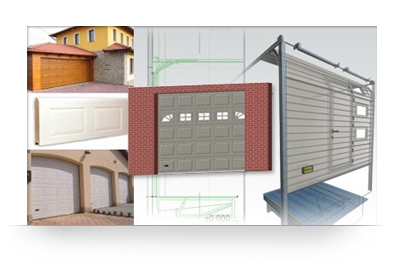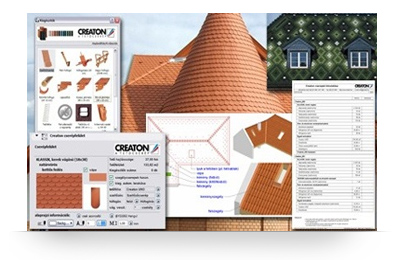 GDL könyvtár vagy Add-on programozása
A fő profilunknak számító ArchiCAD programban kétféle kiegészítő megoldás készíthető: GDL könyvtárak vagy add-on megoldások. Csapatunk fel van készülve mindkét típusú fejlesztés elvégzésére; GDL programozóink és API fejlesztőink várják a kihívásokat.
Hogy melyik megoldást ajánljuk, minden estben függ a modellezhető elemektől, és a megoldástól elvárt működés összetettségétől.
Ha a modellezett termékek inkább tárgy jellegű, önállóan lehelyezhető elemek, melyek között nincs kapcsolat, vagy csak lazább összefüggés áll fent, általában a GDL könyvtár kialakítása a megoldás. GDL elemek pl. nyílászáró könyvtáraink ajtó és ablak modelljei, vagy bútor és szaniter könyvtáraink.
Összetettebb, sajátos logika szerint felépülő, vagy több részlet együttműködését igénylő termékmegoldásokhoz add-on fejlesztése szükséges. Add-onok segítségével komplex működést is elvárhatunk a BIM elemtől. Jó példák erre tetőfedő alkalmazásaink. Ezek az add-onok automatikusan cserepezik le a felhasználó által kialakított tetőidomot, önmaguktól osztják ki a szükséges kiegészítőket, mint a hófogók, szellőzők, tetőfólia, szegélyek stb. – figyelembe véve a tetőcserepezés szabályait. Így gyors és magas színvonalú termékkonszignációk készíthetők a megszokott építészeti szoftveren belül.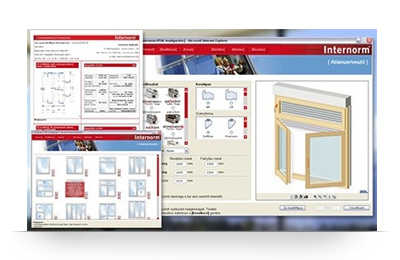 Szoftverfüggetlen alkalmazások készítése
Építészeti tervezőprogramoktól függetlenül is lehetséges konfigurációs- vagy szerkesztőprogramok készítése. Ezeket az alkalmazásokat olyan szakemberek (építésvezetők, kivitelezők, kereskedők) részére fejlesztettük ki, akik nem feltétlenül használnak CAD vagy BIM rendszereket. Sok esetben ezeket a megoldásokat a gyártók utólag saját eladási rendszerükben is beépítették.
Pl. Korábbi Internorm ajtó- és ablaktervező megoldásunk mindenki számára könnyen elérhető és futtatható. A program segítségével gyorsan, egyszerűen összeállíthatók egyedi formájú nyílászárók, melyek akár azonnal, elektronikus úton meg is rendelhetők.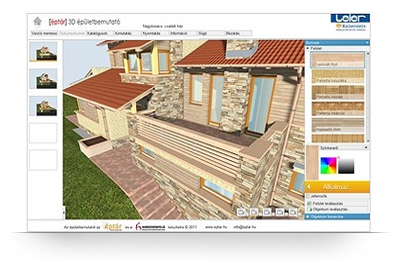 Online környezetben működő alkalmazások
Internet-böngésző programmal futtatható alkalmazások vagy böngésző program kiegészítők. Ezeket az alkalmazásokat a nagyközönség is letöltheti vagy akár az interneten keresztül is használhatja. Így a legtágabb felhasználói körhöz is eljutnak termékinformációk és ezzel széles körben válnak ismertté, vagyis marketing eszközként is kiválóan alkalmazhatóak.
Erre példa a Barabás kerítés tervező megoldás, mely évek óta megbízhatóan működik.
Újdonságaink! Egyéb szolgáltatásaink: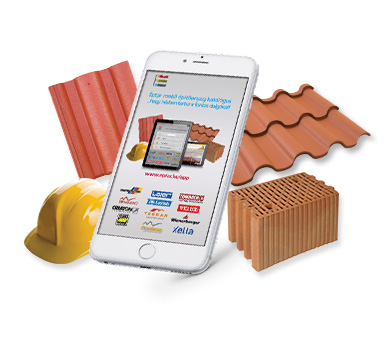 ÚJ!!! Éptár Mobil építőanyag katalógus
Az Éptár mobil építőanyag katalógus okostelefonra alkalmazza mindazt az információt, amely az éptáron megtalálható. Az alkalmazásba automatikusan felkerülnek partnereink hírei, termékújdonságai és az éptáras gyártói aloldal információi. Az alkalmazás wifi csatlakozást találva azonnal frissül, így az újdonságok rögtön megjelennek a felhasználók telefonjain. Az okostelefonos alkalmazás jelenleg Android készülékre érhető el.
Az építőanyag katalógust partnereink számára egyedi arculattal is elláthatjuk. Ebben az esetben csak az adott gyártó hírei és termékei jelennek meg, a gyártó logójával, saját háttérképeivel ellátott appban.
| | |
| --- | --- |
| Apple iPhone/iPad | Android Phones/Tablets |
| | |
Hogyan kerülhet be a mobil építőanyag katalógusba?
Hívja munkatársainkat és tudjon meg többet! +36 1 225 7355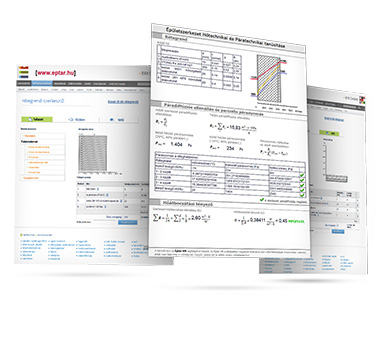 Rétegrend-szerkesztő, épületszerkezet hőtechnikai és
páratechnikai tanúsítvány készítési lehetőséggel:
A rétegrend-szerkesztő segítségével összeállítható egy több alkotóelemből álló, rétegrendes szerkezet (fal, oszlop, gerenda, födém, tető, kitöltés), amely beilleszthető az építészeti tervezőprogramokba. A tervbe illesztett épületelemekről formázott, pontos összetevő lista készíthető.
Rétegrend-szerkesztő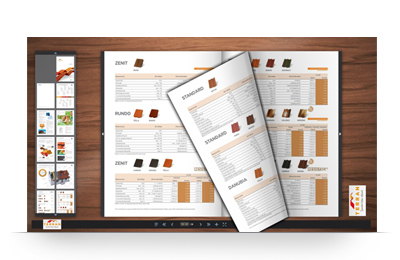 PDF lapozó alkalmazás
A PDF lapozó segítségével dokumentumaikat, árlistáikat, katalógusaikat jeleníthetik meg az Interneten, az eddig megszokottnál sokkal látványosabb formában. Lapozó alkalmazás saját weboldalra is beilleszthető, designja igény szerint ügyfeleink saját arculatához alakítható.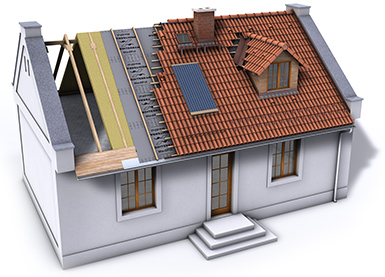 Modellezési segítség
A rendelkezésünkre álló építészeti szoftverek segítségével vállaljuk csomóponti modellek, házmodellek készítését és renderelését, marketing anyagokhoz való felhasználára.
Oldal adatok:
Éptár references
BIM models